---
FLOOD RELIEF
Assam: Guwahati centre distributed 875 kg chira (rice flakes), 170 kg gur (molasses), 117 litres milk, 1256 packets of biscuits, 738 saris, 552 dhotis, 200 lungis, 850 mosquito-nets, 400 kg detergent powder, 300 packets of candles and 300 lighters among 861 families in Baksa, Darang, Goalpara, Karbi Anglong and Morigaon districts from 14 to 28 July. The centre also conducted a medical camp in Kamrup district and provided assistance to 450 patients on 26 July.
View Photos on 
  : Guwahati
---
CYCLONE RELIEF
Odisha: In the concluding phase of the 'Fani' cyclone relief, Puri Mission distributed 2000 saris, 2000 lungis, 2000 towels and 2000 mosquito-nets among an equal number of families in Puri district from 18 to 27 July.
Gujarat: Rajkot centre distributed 5300 packets of snacks to people who had taken shelter in government-run camps in Rajkot, Morbi and Gir-Somnath districts as a precautionary measure against the Cyclone Vayu from 12 to 16 June.
View Photos on 
  : Puri Mission  Rajkot
---
DROUGHT RELIEF
Karnataka: In response to the drought in various parts of Belagavi district, Belagavi centre distributed 40.92 lakh litres of water among 5543 affected families from 4 May to 18 June.
Maharashtra: In the aftermath of the recent drought, Aurangabad centre distributed 31.45 lakh litres of water in 13 villages of Aurangabad district from 19 May to 30 July.
View Photos on 
  :  Aurangabad  Belagavi
---
DISTRESS RELIEF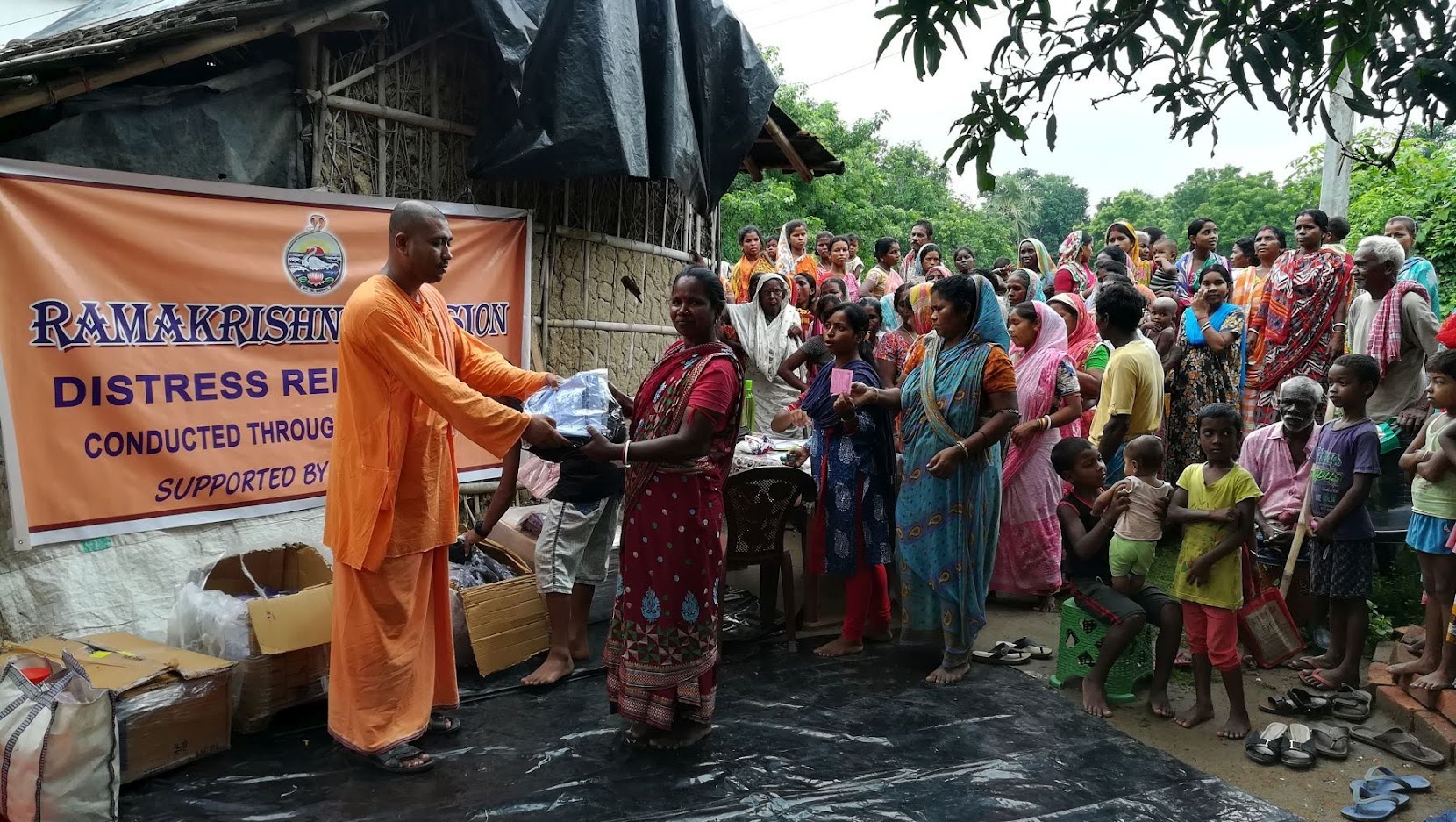 To extend a helping hand to poor and needy people, 11 of our centres distributed 100 kg dry food materials, 10 saris, 3320 shirts, 986 T-shirts, 1411 trousers, 95 jackets, 1590 sweaters, 478 blankets, 225 school uniforms, 49,696 notebooks, 3251 geometry boxes, 5140 pens, 3140 pencils, 140 erasers, 140 sharpeners, 1 water cooler, etc. among the poor and needy people.
View Photos on 
  : Chapra  GHATSHILA   Koyilandy Limbdi  Malda
---
DROUGHT REHABILITATION
West Bengal: Rahara centre sunk a tube-well in the South 24 Parganas district on 16 July.
---